Many homeowners enjoy heating and cooking with natural gas. Professional chefs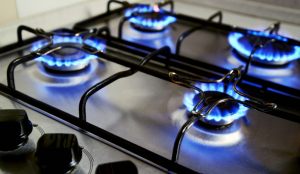 prefer to cook with gas because of its responsiveness to heat controls, and some Realtors are asked to show only homes that have natural gas as their energy source. In fact, 80% of homebuyers prefer homes offering natural gas. Like anything, natural gas has its benefits and drawbacks, along with some warnings.
Benefits of Natural Gas
Here are some of the benefits of using natural gas:
Homes that use gas for their heating, cooking and clothes dryers save an average of around $880 per year, compared to homes using electricity for the same activities
Natural gas is more efficient than electricity and uses less energy
It is preferred for cooking and appliances
Gas is reliable, it isn't normally affected by storms or electrical outages
Common Uses in the Home
Natural gas is commonly used for the following:
Home heating
Generators
Water heaters
Ranges
Clothes Dryers
Fireplaces
Gas grills
Outdoor lighting
Patio heaters
Outdoor fire pits
Pool & spa heaters
Drawbacks of Natural Gas
In addition to its benefits, they are also drawbacks to natural gas:
Natural gas is not available everywhere and it can be expensive to run a pipeline from a distant source
It is a non-renewable energy source and will eventually run out
As an asphyxiant, it can be poisonous if inhaled in large quantities
It is highly combustible and a gas leak can cause a fire or explosion
It is colorless, odorless and tasteless, which makes a leak harder to detect. This is why an odorant is added.
Since its volume is 4X that of petrol, it is expensive and difficult to store and transport
How to Safely Use Natural Gas
Even though natural gas may be the preferred energy source, it comes with some dangers. To safely use it in your home, stick to these top safety tips:
Be alert to leaks. The odorant added to natural gas smells like rotten eggs—an acrid, sulphury odor that doesn't smell like food. If you smell it, or hear a hissing sound, it may indicate a gas leak, and you must leave the house immediately and contact your natural gas provider, or 911 if the odor is very strong. Leave the door and windows open to help ventilate the area.
Install a carbon monoxide detector. Since you may not be able to detect a natural gas leak on your own, a carbon monoxide detector can alert you to a buildup of carbon monoxide in your home. It looks like a smoke detector and can be installed similarly.
Know the location of your gas shutoff valve. If you need to shut off your natural gas, know how to find and shut the valve. Keep a screwdriver or wrench near the valve, if it is needed to facilitate the shut-off.
Maintain gas systems and appliances. Regular maintenance of your gas systems and appliances by a licensed natural gas contractor will keep them running efficiently and safely. Each state and gas company offers a list of qualified professionals. Service your gas-supplied systems, like your furnace and fireplaces, and appliances at least once per year.
Clean your fireplace. Just as with a wood-burning fireplace, your gas fireplace should be cleaned as well. Avoid obstructions, keep combustibles away and install fire-resistant hearth guards for extra protection.
Your Safety is Our Concern at Först Consulting Group
At Först Consulting Group, we look out for the well-being and safety of area homeowners by providing individualized construction advocacy, testing, building pathology and construction defect inspections, and litigation support. If you have a concern that your contractor has not done their job properly, and need an advocate on your side, contact us. We serve homeowners throughout the Virginia and Washington DC metropolitan area.
For more information, or to speak to a specialist about construction issues, contact Först Consulting Group at 703-268-8699.